---
Finnmark Hospital Trust has two somatic hospitals located in Hammerfest and Kirkenes. Mental Health Care and Substance Abuse treatment and ambulance services is decentralized and situated several places around the county of Finnmark.
Finnmark is at 70 degrees north. It has an arctic climate, towns are far apart and are both rural and urban, and has about 75,000 inhabitants. Finnmark is now merged with Troms county, and thus Troms and Finnmark county is the largest county of Norway. 

The Arctic University of Norway has a campus in Alta and in Hammerfest. The main sources of income are fishing, minerals, public services, tourism as well as oil and gas. Finnmark is part of the Sapmi region, which spans over four countries. The Sami are the indigenous people of this region.

Hammerfest is the oil and gas capitol of Finnmark. Hammerfest municipality has around 10000 inhabitants. The town was established in 1789. Kirkenes, where we have our second local hospital, and the municipality has a population of 3500. Kirkenes is the end port of Hurtigruten and the northern terminus of the European route E6. We recently opened a brand new hospital in Kirkenes with the latest in medicinal equipment and technology; it is Norway's most modern hospital today.
We have highly skilled employees and we promote equal opportunities for men and women, and we promote further education and specialisation. We also have treatment locations in Alta, Karasjok, Tana and Vadsø. We offer Mental Health Care and Substance Abuse treatment at all our locations. 

Finnmark Hospital Trust is a small health trust, but we think of it as an advantage – it is large enough to give varied and interesting clinical experience and yet small enough for us to get to know each other. We are a modern teaching hospital with 2,000 highly qualified staff and many students, serving a population of 75,000.
We aim to meet and treat our patients within both general medicine and mental health, in a friendly atmosphere with staff from Norway and many other nations. Encouraging research is a major priority for us, and we have several co-workes who have finished their PhD's with us. We have high scores on quality indicators and aim to always do better. We are currently expanding and developing our organisation, we are opening new and remodelled locations in both Alta and Karasjok.
Finnmark has a well-developed decentralised specialist health service. We have a significant activity in Karasjok, where we have a special focus on health services for the Sami population. Sami National Center for Mental Health (SANKS) in Karasjok provides an offer to the Sami population throughout Norway. 

We have ambulance stations in all the municipalities, air ambulance in Alta and Kirkenes, boat ambulance in Havøysund and Øksfjord, and we have the responsibility for the Sea King rescue helicopter located in Lakselv. We have a though climate and a lot of extreme weather, which means that we must be able to carry out emergency treatment under extreme conditions, and our ambulance personnel must be good at improvising.

As a teaching hospital, we welcome many students a year, from various disciplines, as well as encouraging and supporting improvement of skills and knowledge we offer good training opportunities and supervision to our staff. Medical students do the two final years at Finnmark Hospital Trust, and can get experience from several of our treatment locations. Our local university offer further training for nurses. The hospital has special grants for this.

 You get many benefits as an employee at Finnmark Hospital Trust.
We pay well
We help with housing, and we pay travel and moving expenses
We offer further training in speciality nursing
We offer scholarships for specialisation of doctors
We have good opportunities for research professional development
We have a working environment characterized by diversity
You get a write off from the government for Norwegian student loans
The tax is lower for people living in Finnmark
The electricity is cheaper
Versatility – doctors with experience from Finnmark are attractive in hospitals, in Finnmark you get to work in smaller departments which means that you have more varied task and more responsibility, that you can benefit from in the future
Finnmark Hospital Trust scores high on quality indicators and we work systematically on professional improvement. You get to join us in developing the specialist health service in a county with the size of Denmark, where we affected by long distances and scattered population, which gives you a unique experience in situations you do not get anywhere else!
Last, but not least: you avoid queues and rush traffic and get wild and beautiful nature just outside your door.

Requirements. Here is what you need to know before you move to Northern Norway to work with us.
Language. You must have good Norwegian skills, basic English is also preferred. We can assist in language training. Here is a link to a free program for language training:  LearnNow
Authorisation for health personnel
All health personnel must be authorised by the Norwegian Directorat for Health. Please see their website for information on how to apply.
To work in Norway you need a residence permit from The Norwegian Directorate of Immigration.
The Norwegian Directorate of Immigration
You have to go to the local tax office to be issued with a standard personal ID number. You will then receive a tax deduction card.

For importation of cars and other things see the website of The Norwegian Customs and Excise.
Bank account. To open a bank account bring your passport and personal ID number to a local bank office.
Your employer registers you with the National Insurance Service. If you are entitled to child benefit (if you have children under the age of 18) you need to apply at your local NAV office. You must have a police certificate when required, for example for work involving children and mentally disabled persons. You must submit documentation that you have received necessary vaccinations. If you do not find what you need here, please visit this website:
New in Norway

Adjustments to accommodate diversity and policy
Employees are our most important resource. We strive to attract the very best professionals, and we will make adjustments so that all employees will feel comfortable in the workplace and perform at their best.

The health enterprise shall ensure that diversity in the population is reflected to the greatest extent possible in its hiring practices. Therefore, one of our personnel policy objectives is to achieve a balanced mix in terms of gender and age, and to recruit qualified persons with immigrant backgrounds.
In Norway we have predictable and regulated working hours, 38-40 hours a week. We have annual pay revisions, regulated salaries and we consider our hospital to be competitive on pay.
There are provisions for paid sick leave if you become ill yourself, and also if your young children are ill. We have 54 weeks maternity/paternity paid leave, of which 15 weeks are reserved only for the father. Working relationships in Norway are not overly hierarchic, and the choice of leaders is not dictated by profession. We are fairly informal and usually address each other on first name terms, even when talking to the boss. Women expect to be shown the same respect as men, and we promote working together in multidisciplinary teams. We don't always communicate in a direct way and what at first may sound like a request may actually be an order.
If you are a nurse or doctor and
Someone who – maybe together with your partner - is seeking new challenges and wants more time with family and friends? Then you will exchange long working days and commuting with a social life and activities in unique surroundings
Someone who is attracted to living in Northern Norway? Then you will enjoy living and working with informal people who take advantage of living near to nature
Someone who likes working in teams, together with other professionals? Then you will enjoy being with highly skilled and dedicated colleagues
Someone who already speaks good English and wants to learn Norwegian? Then you can start by doing our online free language training
Someone who likes new opportunities and is willing to contribute to our hospital? We will give you the opportunity to develop and train


Finnmark Hospital Trust has a long tradition of employing people from different countries around the world. We understand that recruiting people from abroad requires something extra, as living and working in Northern Norway is different to working in central Europe. For this reason we prefer to spend a little more time and effort on foreign recruitment to ensure that we have exchanged the correct and necessary information before you start to work for us.
Interview
Prior to a formal interview we would like to have read your complete CV and to have had an informal meeting. This could be at a recruitment fair or even via telecommunication like Skype. If we both agree to go on from there we will invite you to a formal interview at our hospital. Here you will be able to meet colleagues and see your potential place of work. If you accept an offer of work, you will need to apply for Authorisation and Licence and complete various documents from our hospital. Our staff can provide you with help if you need it.
Language courses

Moving expenses and housing. The hospital will cover some of the cost of moving including airfares and the transportation of furniture and goods
The hospital will assist in finding you a suitable place to live.
Most things are close
Most facilities are nearby each other - schools, work, kindergarten, shopping centres, sports and so on. We love the outdoor life, with mountaineering, skiing, hunting and fishing, as well as hiking in the hills, and all this is at our doorstep. We also love the arts and there are a number music, art and theatre festivals during the year, attracting performing artist from all corners of the earth and there are several art galleries and concert venues.

Family friendly
Norway is known as a family-friendly country. It is common for both parents to work. We have maternity and paternity leave during a child's first year, and then kindergarten is available until school at the age of 6 years. Children in Norway have the right to schooling for 13 years. If your child is sick and under 12 years, you have the right to paid leave. Most places offer a good variety of after-school sports and cultural activities for children. Good local schools also provide a variety of after-school activities. We have a safe environment for play and outdoor activities.
Norwegians like to talk about climbing hills and going skiing, but don't worry if this is not really your thing – they also like going to cafés and spending time with families and socialising with friends.

Our locations

Most of our employees work in Hammerfest, Kirkenes, Alta and Karasjok, but we are present in all municipalities in Finnmark County.
Alta is a modern knowledge community, who focuses on research and higher education. Sami culture is important and visible in Alta. The city is the largest in population in Finnmark and a growth centre in the North. It has varied trade and industry, with agriculture, fishing, reindeer husbandry and university, and the city is a commerce and service centre for West-Finnmark and Northern-Troms. Alta is also an interchange, only two hours from Oslo by plane.
Alta has great access to culture and the city show signs of large sports activities. There is a sport activity for anyone, either in organised sports or by using the nature, summer and winter. The city has a large swimming pool and aquatics centre, Nordlysbadet.
Hammerfest is known for being the northernmost town in the world, and we dare to claim that it is, and has been for some year, one of the most exciting and dynamic cities in Norway now!
If you have a partner that is moving with you, chances are good for that he or she also can find a good job in Hammerfest. This is mostly thanks to the petroleum industry that has blossomed in Hammerfest, with the exploration of gas at the Snøhvit field, oil at Goliat in the Barents Sea, and other continuous exploration. Because of this, the city has had a development for the past 10 years and the municipality has roughly 10 000 inhabitants. Fishing is still an important industry, and in the summer months Kvaløya, the island that Hammerfest lies on, is pasture for reindeer.
Hammerfest has a wonderful culture centre with cinema, theatre stage and a constant flow of events. The cultural life is active and compact.
The nature is wild, beautiful and fierce. The islands of Sørøya and Seiland is only a short ferry ride away and provide beautiful scenery. If you like the outdoors life, this really is the place for you.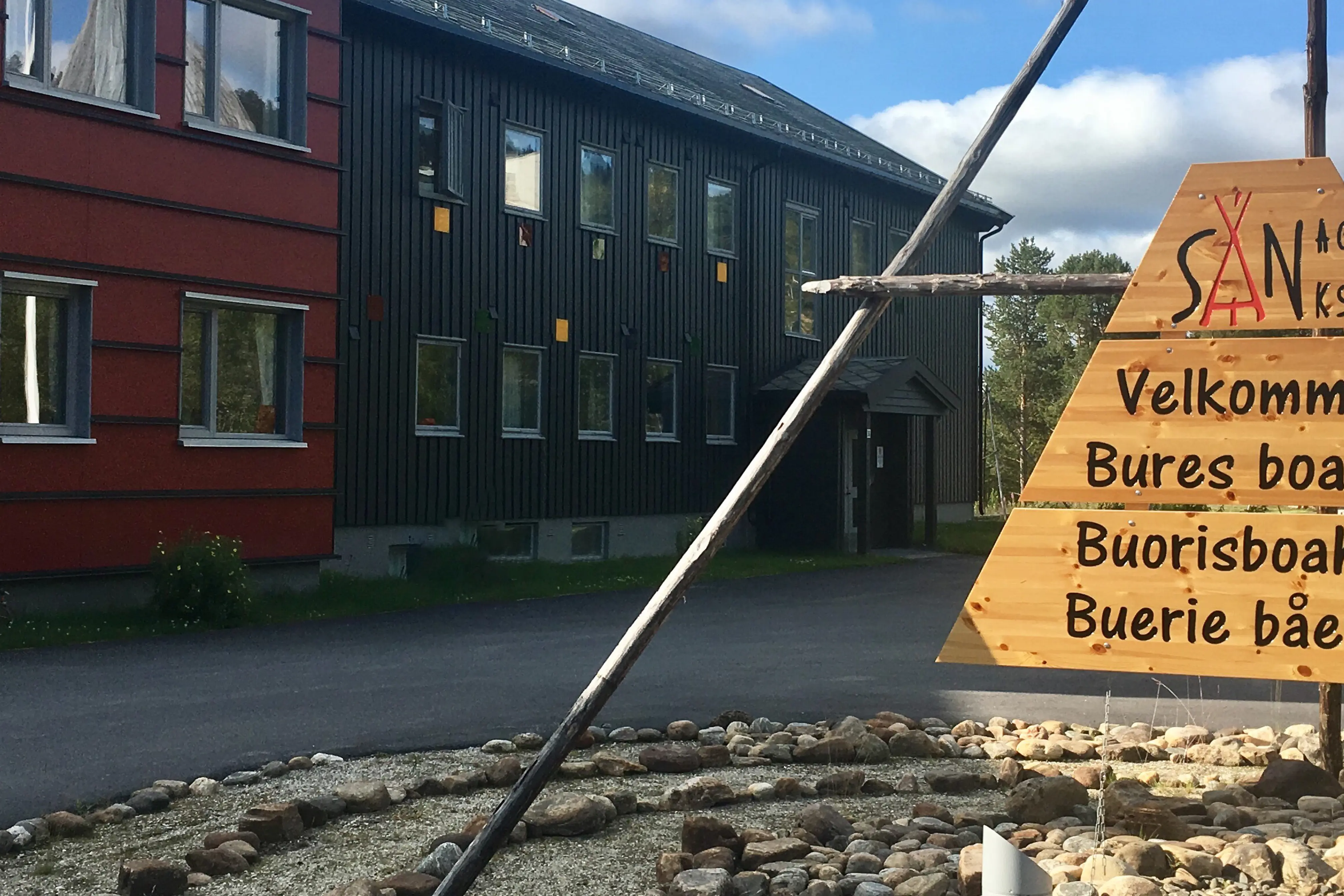 Karasjok got its name after the river that runs through the municipality. The river has always been important for the population in the municipality. It is used for salmon fishing and for getting out to the nature in summer and winter.

Karasjok is a multicultural municipality with both Sami, Norwegian and Finnish settlements. The Sami constitute about 80% of the population in the municipality who is bilingual - Sami and Norwegian. The population is about 2700. Important industries in the municipality are reindeer husbandry and agriculture, as well as outdoor industries such as hunting and fishing. Reindeer herding, with families who live on the business, make up the largest industry and workplace in the municipality, but in total, public administration and services employ most employees in the municipality.
Central Sami institutions are established in the municipality such as the Sami Parliament and NRK Sápmi. Karasjok has a large health-related environment with Sámi clinic. There are well-developed schools with high school and the world's northernmost art school. The institutions represent a broad academic environment, which makes Karasjok an exciting place to live and work in.
Karasjok municipality has an active cultural life, varied sports offers and a unique outdoor life. The municipality also has well-organized and varied ski trails, scooter trails, the world's best salmon river, grouse and moose hunting, ice fishing and flora and fauna with rich natural resources.

Fantastic Sør-Varanger municipality, with Kirkenes as a municipal center, has plenty of room for more people! Here you will find cold winters, relatively warm summers and a lush and diverse nature that extends from wilderness landscape through beautiful fjords to Pasvik's deep pine forest. Today, the municipality has just under 10,000 inhabitants.
The municipality is also a reindeer pasture area. Kirkenes town has approx. 3500 inhabitants and is one of Finnmark's largest cities and endpoints for the Hurtigruten and E6. The municipality also has road links to both Russia and Finland. The airport Høybuktmoen is the main airport for East Finnmark with direct flights to, among other places, Oslo, Alta and Tromsø. Kirkenes is located just off the border with Russia, and about 10 percent of the population are Russians. This also puts its mark on the cityscape, where the city streets are signposted in both Norwegian and Russian.
In the municipality of Sør-Varanger there is a rich and varied sports offer. In addition to sports teams, there are hunting and fishing associations, dog clubs, race teams and company sports teams. Of the facilities, there are two sports halls, a swimming pool in Kirkenes (Barentsbadet - opened in 2008), climbing walls, shooting ranges, artificial turf pitches, grass pitch, light trails, ski resorts, ski jumps and trotting tracks. In the Barents halls there are also great and varied activities for young and old!
We have a brand new hospital in Kirkenes, which was completed in 2018.

The multicultural Tana is a natural pearl in the middle of Eastern Finnmark. Here you can get a multitude of authentic and exotic experiences based on nature and the multicultural.
You can experience magnificent scenery, Sami culture, vibrant settlements, festivals, salmon fishing, plains, fjords, autumn colours and changing light.
Here there are good opportunities for activities for the whole family or outdoor life with good walks, fishing and hunting opportunities. What about a ski trip in the midnight sun in May? Or maybe experience reindeer collection and reindeer marking the fall?

English dictionary 

Some useful words and expressions related to Finnmark Hospital Trust translated into English.
 English dictionary
Sist oppdatert 18.08.2020